Get the no-nonsense guide to NFPA 110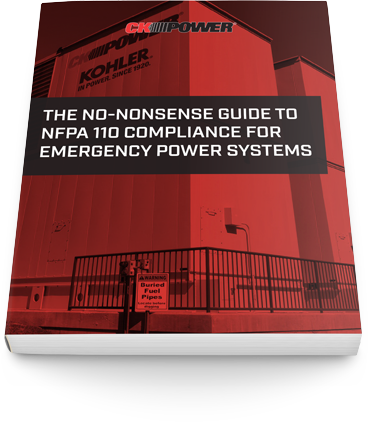 Power outages can mean more than lights out. For many facilities, an outage of even a minute can result in the loss of millions of dollars — or worse, put human lives at risk.
The National Fire Protection Association (NFPA) standard 110 —the standard for emergency and standby power systems— was established to minimize this life safety risk. But with eight chapters, three annexes and dozens of supplementary materials, it covers a lot of ground.
This guide will help you make sense of the standard, giving you a direct explanation of what, exactly, you need to know about NFPA 110. And it'll give you direction on how to achieve compliance.
A straightforward explanation of what NFPA 110 is — and what it means for your facility
What you need to know about gaining approval for your emergency power system installation
An explanation of ongoing maintenance and testing requirements for your system
A list of complementary standards you need to consider when seeking compliance for your system
How to work with the NFPA, enforcement agencies and your generator manufacturer to achieve compliance
Download the guide today to get a jumpstart on NFPA 110 compliance for your facility's emergency power system.