If you're looking for more information about tier 4 engine regulations, we've created a helpful infographic here. If you're interested in browsing tier 4 engines, check out our tier 4 product catalog here. If you're looking for a representative from CK Power to help guide you through becoming tier 4 compliant, open the chat box in the bottom right corner. If you're here to learn about common tier 4 engine problems our clients encounter, enjoy the article below!
In advising our customers on how to make compliance with the EPA's final Tier 4 emissions standards as painless as possible, we've run into a few recurring questions. Addressing common final Tier 4 engine problems for engines from John Deere, Cummins, Kohler and more is a large part of what we're up to right now. It's our goal to make the transition to final Tier 4 emission standards as painless as possible for our customers.
In the interest of accomplishing that goal, we are offering Tier 4 consultations for those who need help overcoming Tier 4 obstacles. While no two applications are exactly the same, we have compiled answers to the most common Tier 4 engine problems we encounter, and how CK Power is helping solve them. The overarching theme of these issues tends to be the problem of conforming existing operations to new, usually larger, engine equipment.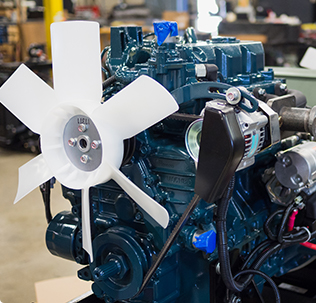 Need your tier 4 questions answered?
Request a Tier 4 consultation and someone from CK Power will be in touch shortly to begin finding solutions to your Tier 4 problems.
How will final Tier 4 solutions fit into my current manufacturing operations?
The most common issue we confront with original equipment manufacturers is how to go about merging existing specs and processes with entirely new engine equipment. It's an entirely understandable dilemma. Manufacturers typically aim for the lowest possible throughput time by increasing the efficiency of their process wherever possible. Introducing a new cog wheel into such a finely calibrated system has the potential to jam up the whole operation. Manufacturers could be forgiven for believing they'll need to start from square one.
Within this category, these are the three most common issues we see:
Ordering final Tier 4 engine equipment
Many of the same customers have often been ordering engine equipment from us for years. And it was easy. The manufacturer would convey to us horsepower requirements and we would provide a menu of options, all of which would be suited to the customer's application. A choice would be made and that was that.
Now, the buying process has changed. Besides not having the same menu of options available, manufacturers are also receiving complicated estimates from some dealers. An engine manufacturer may quote one price, without mentioning that components crucial to meeting the final Tier 4 emission standards are not included in that price, or at least not assembled already. Ordering based on horsepower requirements alone has gotten more difficult, and placing orders based on low bid alone can have repercussions.
If you're ready to order now or would like to speak to someone directly, you can reach out to one of our sales reps here.
Base constraints
"The engine I've been ordering for years required six feet of space to be mounted in my application. Now I'm told the one I need requires six and a half feet and I just don't have the room."
Sound familiar? It's something we're hearing more and more often from manufacturers who buy directly from an engine manufacturer. For many of those companies, the relationship might end with the sale. But with the deadline for the implementation of final Tier 4 emission standards knocking on the door, we're seeing that it's about more than simply having the right piece of equipment on hand. Expert service is paramount.
Regeneration
Regeneration equals downtime for our customers. And, as such, it needs to be controlled for wherever possible. To burn off excess particulate matter in order to meet the new emission standards, the diesel particulate filters on some final Tier engines will periodically need to function above normal operating temperatures for a time. Since they cannot be used while performing this function, it's important for customers to know which products require regeneration time, and how to work around it.
Let's talk
CK Power offers tier 4 generators suitable for a wide variety of environments and markets. We've created a short video that covers what you can expect when working with us to solve your tier 4 engine problems.
Some shopping for final Tier 4 diesel engines will anticipate the issues listed above and some may be blindsided by them. Some engine manufacturers may note them, and some may be looking to close the sale and move on. That's unless they're shopping Tier 4 engine solutions from a full-service supplier like CK Power.
For our engineers, the puzzle is making that new cog wheel work with your existing processes. They work with manufacturers to address common final Tier 4 engine problems including finding the right product, making it work with your existing processes and making sure the customer is aware of any changes brought on by the new machinery. Their experience keeps manufacturers from having to rebuild their processes from the ground up, so throughput doesn't suffer and all possible efficiencies are preserved.
Get in touch with CK Power today to discuss the final Tier 4 problems, and solutions, facing your company.